Plastic Medical box (also called medicine box) or plastic medical boxes,  are widely used in hospitals and families. The can be used for storing drugs, medical devices or carrying them for seeing patients.
Medical box, as its name implies, is a container for storing medicines and medical equipment, which can be taken out and used in case of a situation. Compared with the medical kit, the medical box has a larger volume and larger capacity, which may store more items. Medical kits can only store emergency items for one-time use. Medical boxes are different because they store more items because of their large size.
Classification of plastic medical boxes
Classification by use 
1.Family Storage medical box
2.Doctors carry personal medical kits
3. First-aid kit
4.Drug storage boxes in hospitals
5.Intelligent medicine box
6.Desktop medical box
7.Comprehensive uses medical box
8.Automative medical box
Classification by style and structure
1.Simple medical box
2.Multichamber medical box
3.Multidrawer medical box
4.Reinforcement medicine box
5.Large size medicine storage box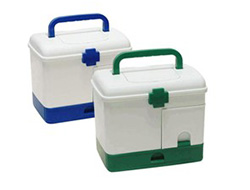 Family medical box First-aid kit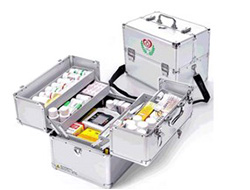 Doctors carry personal medical kit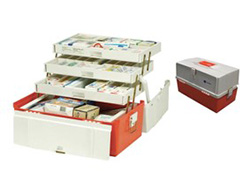 Multidrawer & Multichamber medical box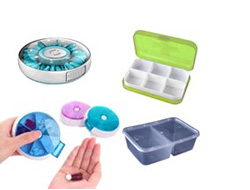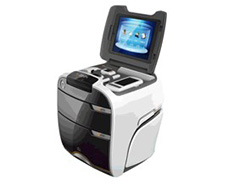 Intelligent medicine box Automative medical box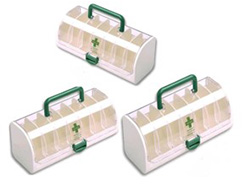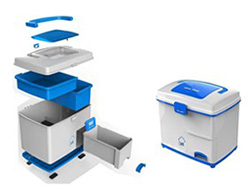 Comprehensive uses medical box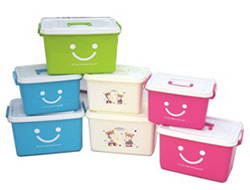 Drug storage boxes in hospitals
What plastic material are used to make parts of a medical box ?
In hospitals, a department or a certain kind of medicinal materials and instruments are usually integrated in one or several special packages.
This form of complete set of medicines is fixed and classified. It is called a medical box.
Except for the medical box used in battlefield or high temperature and high pressure special environment, most of the other medical boxes are made of plastic moulding. For example: hospital medicine box, household medicine box, first aid medicine box and so on.
The plastic material we generally use to make medical box are PP, ABS,PC.
PP medical box features: large capacity, light weight, low production cost in large quantities, can accommodate the storage of various drugs, moisture-proof, anti-cross-flavor. It is suitable for household and hospital drug storage.
According to the need of use, other plastic or metal parts are used to match with PP box parts to reinforce or give more functions to the box.
According to the users, the environment and the storage of drugs or medical devices, the medicine box has a variety of styles, sizes and internal structures.
What Plastic parts are in a medicine box ?
A medicine box mainly consisting of plastic parts mainly includes the following plastic parts
1.Top cover
2.Box body
3. Internal tray, drawer boxes
4. Handle
5. Locker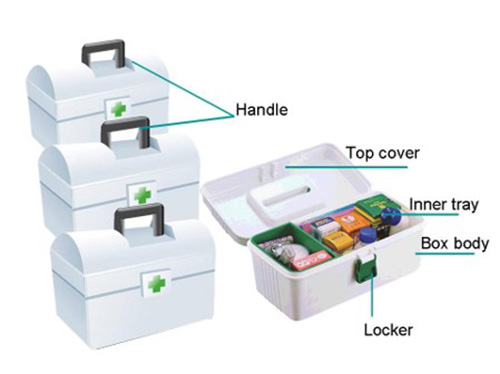 Injection Molding Technology and tips for plastic medical box components
1. Generally, the size of the simple medicine box is small, and its structure is simple. The top cover, the box body and the inner parts can generally be made of PP plastic.
2. For the exterior parts of the multifunctional medicine box with complex structure, ABS and PC materials with stable size are usually used.
3. Aluminum metal parts are sometimes added to reinforce edges and corners of medicine boxes which often need to be moved.
4. The depth of the medicine box is relatively large, and there is not enough reinforcement inside the box. ABS or PC materials are needed.
5. The materials used must satisfy ROHS or FDA. The storage and use of materials should be distinguished from other materials.
6. Injection machines and production environment should be clean and tidy to meet the standards.
Medical kit has a wide market, its production must comply with certain industry standards. Mestech company makes plastic mold and production for custom plastic medical box. Please contact us for more information.
---
Post time: Oct-15-2020