How to make auto dashboards
Short Description:
The automobile dashboard is an important component of the automobile, which is equipped with various monitoring instruments, operating devices and electronic systems.
Plastic auto dashboard is an important interior in an automobile.
The auto dashboards generally made of plastic resin "modified PP" or "ABS/PC". The automobile dashboard (also called dash, instrument panel , or fascia) is a control panel usually located directly ahead of a vehicle's driver, displaying instrumentation and controls for the vehicle's operation. An array of controls (e.g., the steering wheel) and instrumentations are installed onto the dashboard to show speed, fuel level and oil pressure, the modern dashboard may accommodate a broad array of gauges, and controls as well as information, climate control and entertainment systems. So it is designed and made in complex structure to fit and locate those controls and instrumentations firmly and undertake their weight.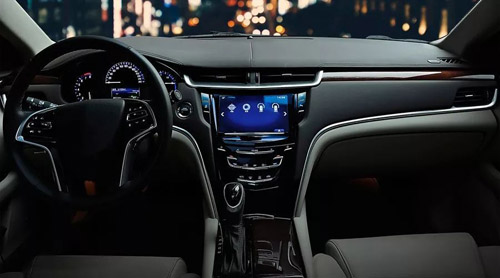 Automobile dashboard system
For different dashboards, the processes involved are also quite different, which can be roughly summarized as follows:
1. Hard plastic dashboard: injection moulding (parts such as dashboard body) welding (main parts, if necessary) assembly (related parts) .
2. Semi-rigid foam dashboard: injection/pressing (dashboard skeleton), suction (skin and skeleton) cutting (hole and edge) assembly (related parts).
3. vacuum molding / plastic lined (skin) foaming (foam layer) cutting (edge, hole, etc.) welding (main parts, if required) assembly (related parts) .
Materials for each part of dashboard
| | | | |
| --- | --- | --- | --- |
| Part name | Material | Thickness (mm) | Unit weight (gram) |
| instrument panel | 17Kg |   |   |
| Upper body of instrument panel | PP+EPDM-T20 | 2.5 | 2507 |
| Airbag frame | TPO | 2.5 | 423 |
| Instrument panel lower body | PP+EPDM-T20 | 2.5 | 2729 |
| Auxiliary instrument panel body | PP+EPDM-T20 | 2.5 | 1516 |
| Trim panel 01 | PP+EPDM-T20 | 2.5 | 3648 |
| Trim panel 02 | PP-T20 | 2.5 | 1475 |
| Decorative panel 01 | PC+ABS | 2.5 | 841 |
| Decorative panel 02 | ABS | 2.5 | 465 |
| Air duct | HDPE | 1.2 | 1495 |
| Moving ashtray | PA6-GF30 | 2.5 | 153 |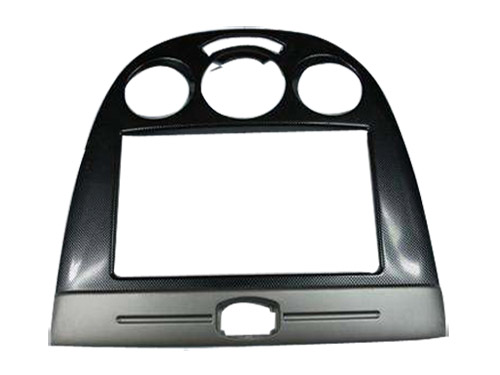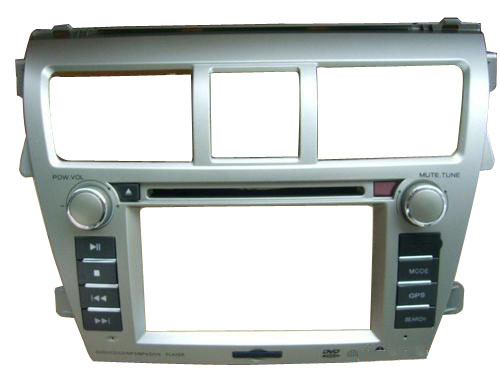 DVD front panel on automobile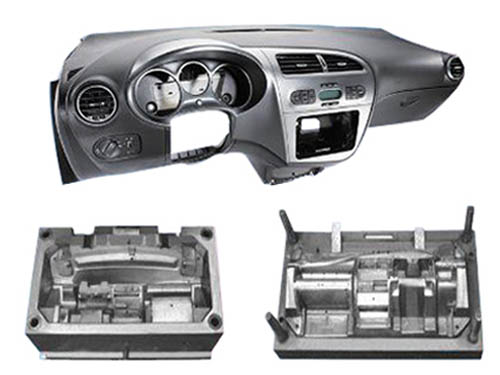 Automobile dashboard and mold
The main processes for making auto dashboards are as follows:
Injection molding process: the drying plastic particles in the injection molding machine through screw shear and barrel heating and melting after injection into the mold cooling process. It is the most widely used processing technology in the manufacture of dashboards. It is used to manufacture the body of hard-plastic dashboards, the skeleton of plastic-absorbing and soft dashboards and most other related parts. Hard plastic dashboard materials mostly use PP. The main materials of dashboard skeleton are PC/ABS, PP, SMA, PPO (PPE) and other modified materials. Other parts choose ABS, PVC, PC, PA and other materials besides the above materials according to their different functions, structures and appearances.
If you need to make plastic parts or molds for the dashboard, or if you need more information。Please contact us.
---
Previous:
Mould classification
---